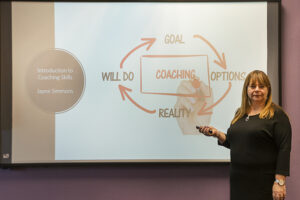 Coaching skills training for managers and 1-2-1 Coaching for Personal & Business Growth
The need for coaching skills and training is clear but how do you do it?
The Chartered Institute for Personnel and Development viewpoint: Although there's a lack of agreement among coaching professionals about precise definitions, there are some generally agreed characteristics of coaching in organisations:
•  It's essentially a non-directive form of development.
•  It focuses on improving performance and developing an individual.
•  Personal factors may be included but the emphasis is on performance at work.
•  Coaching activities have both organisational and individual goals.
•  It provides people with the opportunity to better assess their strengths as well as their development areas.
Training Course Description
It's a skilled activity, which should be delivered by people who are trained to do so. This can be line managers and others trained in coaching skills. OACD coaches believe that businesses can support their staff development.
Each organisation will have its own reasons for introducing a coaching culture and this need will be discussed to allow a course to be built to meet your needs. What is your organisation hoping to achieve by introducing coaching in your workplace?
•  Increase productivity?
•  Improve communications?
•  Increase staff commitment & loyalty?
•  Deal with performance management issues?
•  Decrease levels of stress and tension?
•  Increase resilience?
•  Develop skills for succession planning?
Audience
Line managers and others who have a role in getting the best of out employees. For those organisations want to develop a coaching culture, it would be relevant to all employees.
Course Outline
OACD can work with you to develop a coaching skills training programme to support your business needs. Speak to OACD to see what a coaching skills course could do for your own organisation.
Course Outcomes
On completion of this course delegates will be able to:
•  Carry out a workplace coaching conversation
•  Support coachees in settling up realistic goals
•  Having constructive follow up conversations as to next steps in meeting company and individual targets
Location
OACD is based in Aberdeen. Courses can be delivered at client workplace
During the Corvid 19 Pandemic – online delivery methods can be discussed